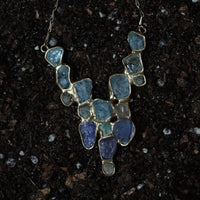 Emilie Shapiro
Woodland Necklace
I designed myWoodland collection while reflecting on my time spent on Maui. One of my favorite days was exploring the road to Hana. This is a famous one-lane highway with tons of curves and many stops along the way. It wasn't so much about getting to Hana, but the journey to get there. Along the way we stopped to hike through eucalyptus forests, climb waterfalls and explore black sand beaches. A reminder in life that it's about the journey to get there, not the destination. Aquamarine, emerald and tanzanite are embedded in brass and anchored on our signature brass chain with a handmade clasp.
Pendant Length 3 1/2"
Pendant Width 2 3/8"
Necklace Length 21" - 23"